BTS AVERAGING OF HOURS AGREEMENT
As mentioned in a previous bulletin the BTS bargaining committee entered into an averaging of hours agreement.
This allows BTS techs to voluntarily work past the CLC (canada labour code) limit of 48 hours per week. It also explicitly states that management will not "intimidate, coerce pressure or threaten" any employee into working more than 48 hours
The actual signed agreement is available below, click the preview to open the agreement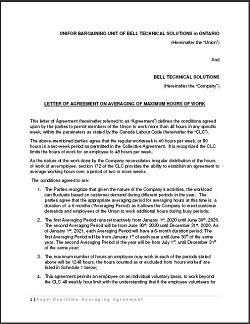 Bulletins
Bell Craft Bargaining Bulletin 5
Please find below Bargaining Bulletin #5 from the Bell Craft and Services bargaining committee Click preview below to see full bulletin ...
READ MORE
Sun Jan 10, 2021