Memo to BTS members regarding consecutive days of rest
The Local 43 social committee invites all members and their families to come out to Memorial Park in Welland on August 26th for a BBQ.
From 11am - 4pm Hot dogs, Hamburgers and Soft drinks will be provided.
Memorial Park is located in the South-East of Welland and has a pool and splash pad, for driving directions CLICK HERE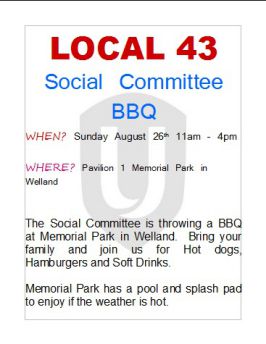 BTS Bulletins regarding ongoing issues with company
Two bulletins are posted below from the Bargaining Committee, detailing the ongoing issues BTS members are facing.
First bulletin talks about the consecutive DOR's and how BTS has decided to schedule using the 6x4 model. Resulting in some members losing some guaranteed regular hours due to uncontrolled overtime.
Second bulletin details issues involving part time employees not being scheduled their quarterly weekend properly and overtime/regular hours not being paid out correctly
BTS Employees Return to Labour Canada Max 48 hrs Per week
Unifor Summer Events in Niagara
Announcement from the National, looking for local members to participate in two events taking place in June in Niagara;
Pride in the Park Festival: June 9th 1200pm to 1030pm in Montebello Park in St. Catharines
Welland Rose Festival Parade: Sunday June 24th
Details on both events are in the attached document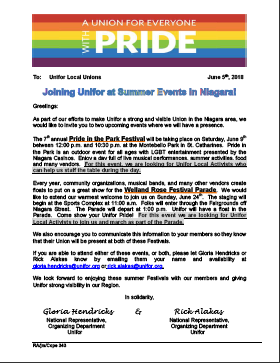 Update on BTS contract signing re: consecutive DORs
BTS Tentative Agreement Ratified
The BTS tentative agreement has been ratified. With 50.24% of members who voted, voting yes. For the official announcement CLICK HERE
The new tentative agreement will take effect on May 7, 2018
The date for the Niagara Ratification meeting/roadshow is February 26th. It will be held at the Peninsula Inn in Niagara Falls and run from 7pm to 11pm.
BTS members will be able to vote on the tentative agreement (available here) and ask questions of the bargaining commitee.

The Address of the of the Peninsula Inn is:
Peninsula Inn Resort
7373 Niagara Square Drive
Niagara Falls, ON
L2H1J2

CLICK HERE for directions
Transervice Reaches Tentative Agreement
The Transervice Joint Bargaining Committee has reached a tentative agreement. CLICK HERE or the preview below, to read the official announcement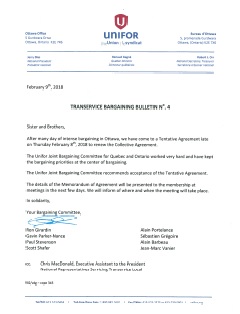 BTS officially starts bargaining on Wednesday, December 6, 2017. As bargaining updates flow down they will be posted here as quickly as possible. Our own local president Shawn Cowan is one of four members chosen to be on the bargaining committee representing Ontario (Quebec is at the same table, with it's own members).
Bulletins listed below, with the newest on top:
BTS to begin early bargaining
This is an update from Tyson Siddall the Director of Telecommunication for Unifor about the upcoming BTS bargaining
To summarize:
Bargaining will begin on December 4th towards a deadline of January 31, 2018
Tripartite Agreement has been extended until January 31, 2018
Collective agreement still expires on May 6, 2018
No strike or lockout can commence before June 7, 2018
Settlement of National Policy Grievances and Averaging of Hours Agreement
Below are links to the minutes of the settlement of BTS national policy grievances and the new averaging of hours agreement.
National Policy Greivance Settlement
NOTE: Both of these agreements will be explained in person, with both union and management present. Any questions will be answered then.
BTS bargaining proposal forms for 2018 contract
The bargaining proposal forms for the upcoming BTS contract in 2018 are available to be filled out by all BTS members here.
Electronically filled out forms must be printed and signed. They can then either be deposited in the box located at the BTS work centre on Dunlop or scanned and emailed to the local.
Proposals must be submitted by September 25, 2017
You could also attend the next scheduled union meeting on September 11, 2017 @ 7:00pm and drop the form off in person.
The new unifor 43 website is live, more updates coming soon.
Bulletins
Memo to BTS members regarding consecutive days of rest
Memo from the bargaining committee to BTS memebers in response to the email sent out by the company on Monday Sept 17th. Specifically outlining the bargaining committees ongoing efforts to resolve th ...
READ MORE
Thu Sep 20, 2018