→ FALL UNION MEETINGS ←
Due to COVID-19 the November 9, 2020 General membership meeting has been cancelled
HOWEVER Voting will be going on for the position of vice president.
The candidates will be:
Poles will be open from 3 pm to 10 pm at the Local union office in Niagara Falls located at 3855 St. Peter Ave.
In the coming days statements from both of the candidates will be simultaneously posted right here on the website
VICE PRESIDENTIAL CANDIDATES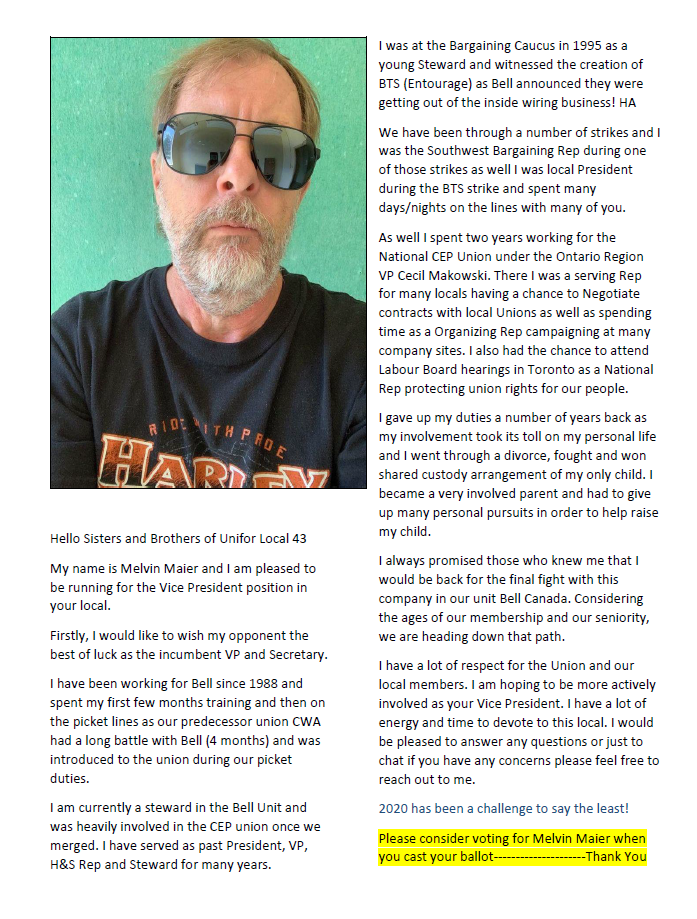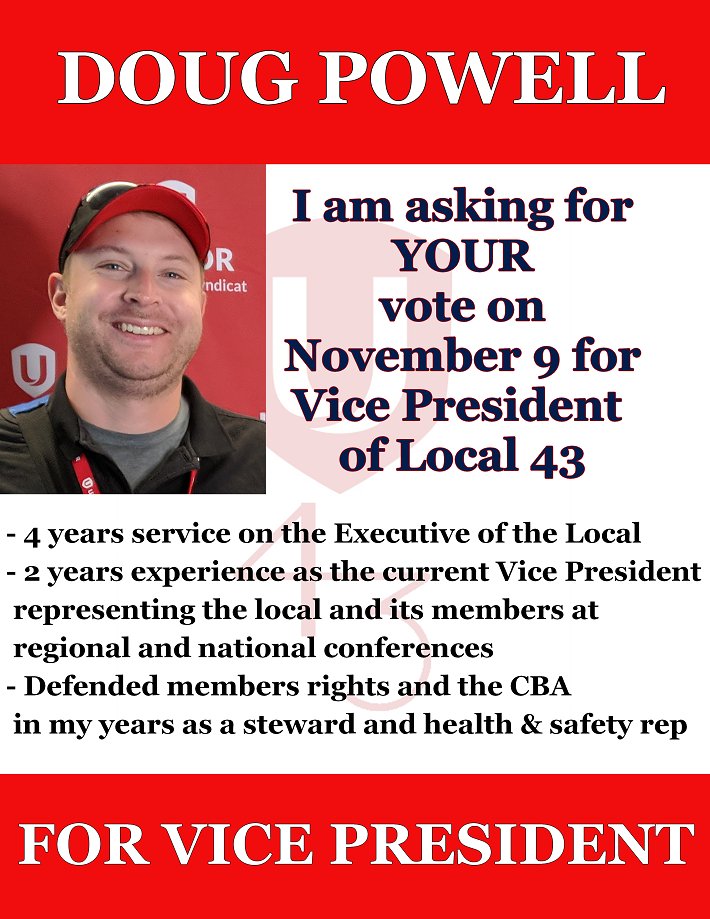 Click the preview images above to view the posters
→ CORONAVIRUS PAGE ←
We put together a Coronavirus awareness page with FAQ's and information from the National, along with links to the Corona pages from the Federal and Provincial government
Real Talk pledge card WINNERS
Thanks to all the members who filled out one of the Real Talk pledge cards, pledging to fight for good telecommunications jobs in Canada.
We held a draw of all submitted cards to determine who the winners of the $100 $50 and $25 gift cards would be..
AND THE WINNERS ARE:
1st Prize - $100 - Ron Woodcock
2nd Prize - $50 - Jakub Kupnicki
3rd Prize - $25 - Mike Mazzone
Congratulations to the winners, we will be reaching out to you via email shortly. Thanks again to all members that filled out a card, and all the reps who helped make this campaign a success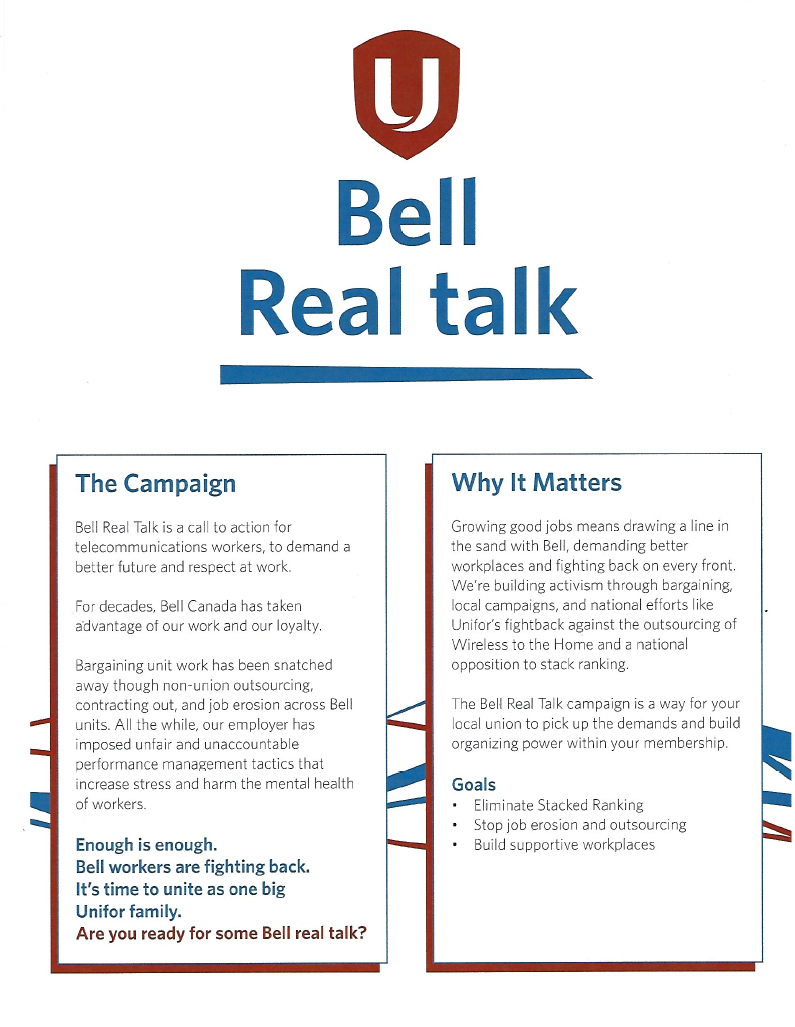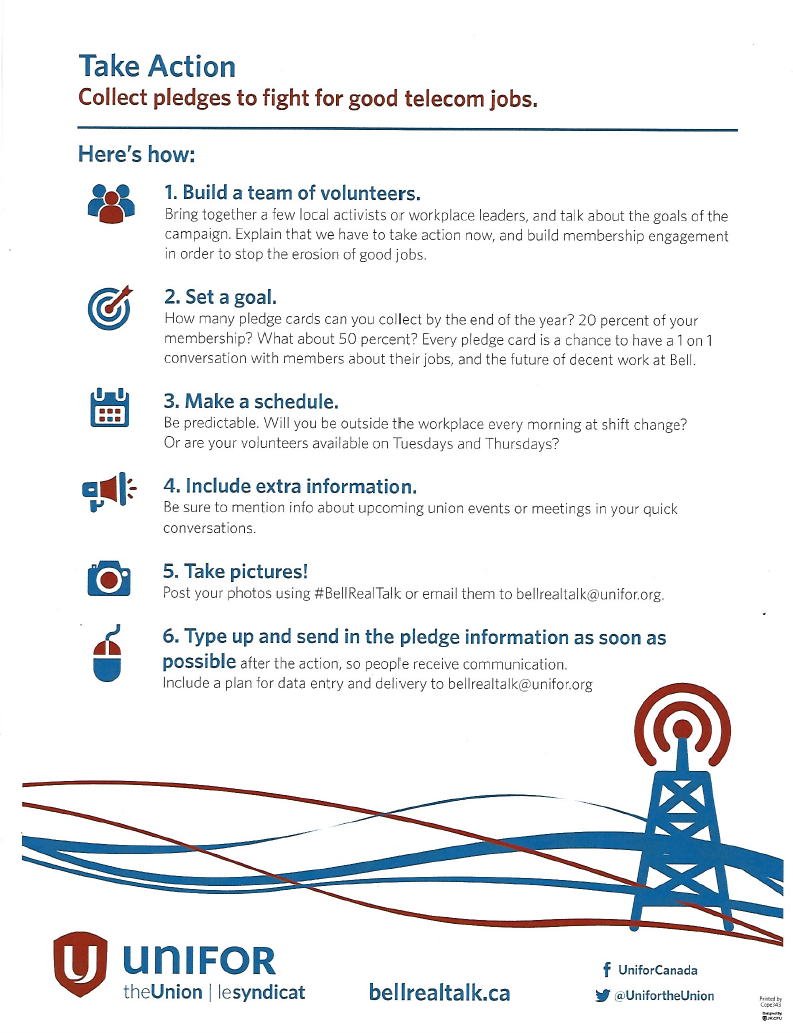 Unifor Local 43
Who are we?
Representing telco workers from Bell, Expertech, Bell Technical Solutions and Transervice in the Niagara Region
Mailing list
Join the Unifor 43 mailing list for updates/reminders on meetings. To join, send an email from the address you want added with your name and bargaining unit to the recording secretary dpowell@unifor43.org
NOTE: Personal email addresses only, company emails will not be accepted
Bulletins
2020 Executive Elections
The 2020 election cycle at local 43 is underway. The nominations closed in the October meetings, this is how everything stands going into the November election: President Shawn Cowan Vice-Pres ...
READ MORE
Mon Oct 12, 2020
Alert: Smartphone privacy issue
Please find a memo below with information regarding a smart phone privacy issue. Samsung smart phones have a feature that can reveal your full name to anyone that you call, the bulletin contains the ...
READ MORE
Thu Oct 1, 2020